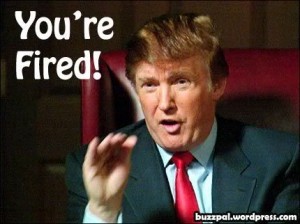 In a recent new business meeting, the prospect asked us if we've ever ended a relationship with a client by our own choice. While this may be a bit of a taboo subject – why in the world would an agency fire a client – the fact of the matter is that good agencies recognize when a relationship isn't right on their end as well, and take steps to correct it. When those steps don't work, sometimes breaking up is the only thing to do. So what are the reasons one might choose to end a client relationship and give up potential revenue? I've listed a few below. Remember – especially if you're the boss – protecting your reputation, your staff and your ethics are priceless.
Unrealistic expectations. You've heard this time and time again. Yes, clients have every right to be demanding and to push for the best possible results. But when the CEO insists that not only should he be on the cover of Fortune Magazine, but his wife (who works in a completely separate company) should be with him as well (profile of a "super couple"), let the red flags fly. One might even think this CEO is joking but alas, when he is not – and six months later when he berates your team for "not knowing the right people," (even though you've secured coverage for his company in USA Today, MSNBC, The Wall Street Journal and more), because he is still not profiled on the cover of Fortune with his lovely wife, it's time to consider that pleasing this client may never happen. Sometimes you have to know when to stand up from the game and walk away.

Abuse of your staff. This may sound dramatic, but it's not uncommon. When a client contact treats your staff in a way that you would never tolerate internally, you have to address the situation and demand respect for your people. No one should ever have to tolerate verbal abuse, sexual harassment or demeaning situations – and it's up to you as a leader to ensure their safety and comfort. If a client consistently crosses the line, it's time for you to cut the cord. Like a parent, encourage your staff to open up and tell you whenever an uncomfortable situation arises. They need to know when it's okay to push back – and that you would never expect them to tolerate inappropriate behavior.

Sudden change in metrics – without the accompanying change in resources. Any good PR agency is flexible and smart enough to alter strategies when a client's company goals change. But when a client insists on adding five new programs and increasing metrics two-fold, with no additional resources (read: budget) provided, you have to reassess the situation. Often, it's easier to ask for forgiveness than permission, and sometimes clients take that approach in requsting additional work under the same budget. While to some degree this can be tolerated, when significant changes are made and the expectations for your team to crank out results are not given the proper support, you have to assess whether or not the relationship is still returning value to your agency. Sometimes accounts simply become non-profitable. No one can run a successful business giving away free work. Talk to your client and explain that additional resources are required, or changes to the existing program need to be made in order to meet their new metrics. Most times, clients will understand and you can find a mutually-beneficial resolution. But if you can't, be prepared to walk away and allocate that team to a more profitable prospect.

Consistently late payments – or lack thereof. Every now and then a client has a reason that a payment arrives late – and the respectful ones will tell you about this glitch before you have to ask. But if you have a client who continually forgets to pay their invoices, or worse, hasn't paid in over 30 days, you need to change course. Times are tough for every business, but just because you're in client service doesn't mean that you have to tolerate non-payment. If a client can't keep their commitments to you, you should evaluate if this is a "healthy" relationship for your agency – and the future of your business.
Ultimately, although we are in the client service business, it's important to remember that it's a client relationship. And the best relationships must involve mutual respect and admiration. It's up to you to ensure those elements exist on both sides of the coin – so don't be afraid to speak up when something's not working, and to walk away if it seems beyond repair.
Have you ever fired a client? Why or why not?