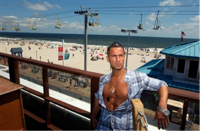 Apparel retailer, Abercromie and Fitch issued a statement on Tuesday titled "A Win-Win Situation," in which it stated a "deep concern" over the association between Mr. Sorrentino and the brand. A&F offered up a "substantial payment" to Mr. Sorrentino "to wear an alternate brand." For those of you that live under a rock, the above mentioned, Mr. Sorrentino aka 'The Situation' found instant stardom as one of the notorious cast members of MTV's hit reality series Jersey Shore.
Apparently, following last week's episode of the Jersey Shore, A&F executives thought it was "terrible, terrible news" that The Situation was sporting a pair of A&F sweatpants. Execs were so distraught that they immediately asked "What are we going to do it about this?"
Of course the most obvious solution would be to compensate Mr. Sorrentino (as well as other cast members) for NOT wearing their brand of clothing and to issue a public statement about the request. OF course! Oh and coincidentally, the timing of the statement resulted in its reference during yesterday's A&F earnings call during which the retailer's Chief Executive Mike Jeffries chuckled, "Is no one going to ask about the Situation?" Hmm….
This PR flack thinks this was pure brilliance. Issuing a public statement requesting that perhaps one of THE most well-known reality casts stop wearing their brand has only drawn increased attention to their label of preference. This strategy had their story leading off all the national morning shows, including The Today Show, feature coverage in the Wall Street Journal, and all the top national dailies, as well as features in all the celebrity rags and fashion trades. On top of that, The Situation, and A&F are also nationally trending topics on Twitter today!
Well played, Abercrombie. It will be interesting to see if these reality stars bite and if so, what other brands will jump on the anti-Jersey Shore bandwagon. I guess the old adage holds true – any publicity is good publicity…???
What do you think about this PR strategy? Share your comments below.