Posted on July 20, 2012 by Vic Miller
Filed Under Persuasive Picks | Leave a Comment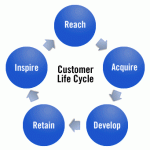 Most forms of marketing and advertising focus on attracting and engaging customers through a sales cycle to create awareness and interest, guiding the customer to consider and purchase. Lee Odden writes on ClickZ that while a lot of social media-savvy companies are leveraging social channels to engage with communities and for customer service, expectations are high to influence a social return on investment (ROI). Learn more in Optimizing Social Media Across the Customer Lifecycle
David Murdico at iMediaConnection thinks that a lot of efforts and resources are being wasted by too many businesses, brands and organizations that lack a clear understanding of social media marketing. He cites 5 Social Media Marketing Myths You Should Understand to provide a powerful way of building awareness, communicating with consumers and ultimately selling more stuff!
If your brand has a social media presence, consumers need to hear from you. 60% of Consumers Expect Brands to Respond on Social Media regarding service at least most of the time, according to a new report. Daniel Mickens reviews the findings of a recent online survey that looks at social media's impact on people's brand perceptions and purchasing decisions – via Mashable.
Do you tweet at the supermarket? "Like" your favorite brands? Scan QR codes? If so, you're part of a growing group of social media savvy consumers who use technology to inform their purchasing habits. Lauren Dugan posts How Do Consumers Use Social Media To Shop? [INFOGRAPHIC] on AllTwitter – visualizing the results of a recent study that looks at consumers' social media behaviors when they shop.
Tags:
AllTwitter
,
Behavior
,
Brands
,
ClickZ
,
Consumers
,
Daniel Mickens
,
David Murdico
,
iMediaConnection
,
Lauren Dugan
,
Lee Odden
,
Mashable
,
Social Media
,
Social Media Behavior
,
Social Networking
,
Social ROI
Comments