Every now and then, I come across a product or service that makes me ask, "Why didn't I think of that?" MavenSay—a new social networking app– is no exception.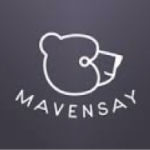 With this app you're able to share your lifestyle with a trusted community of enthusiasts and local taste makers. What pair of running sneakers do you love? Where do you get the best coffee heath bar ice cream? Where should I get my eyebrows waxed? What's a new song I should download?
At its heart MavenSay is about knowing what's good by sharing the latest trends — fashion, food, music, shopping — through reliable and trusted recommendations. With a soft launch in October, the six month old app is making huge strides in New York City, Los Angeles and San Francisco. More than a location based guide, MavenSay wants to be the community for lifestyle curation.
So how does it all work? Well, one of the best things about MavenSay is how easy it is to use. Simply, find you friends through Facebook and Twitter to see their recommendations. You can also visit the weekly "Discover" section to find a curated collection recommended by MavenSay. or use the nearby map feature to view favored local finds.
And with a spokesbear named Fred the Honey Maven ¬and creative video ads like this one¬ http://vimeo.com/58834365 — it's hard not to appreciate this bright company's creativity to attract Mavens.
It will be interesting to see if MavenSay will stick. Are you a Maven? What are some of your favorite features? What could MavenSay do to enhance their app? Please share your thoughts in the comments below.