We are excited to resume our "Influencers Who Inspire" interview series, where we highlight industry influencers and leaders in business. Today, we talk with Rebecca Strong of BostInno.  She shares her thoughts on the local tech startup scene in Boston and what she loves about her role at BostInno.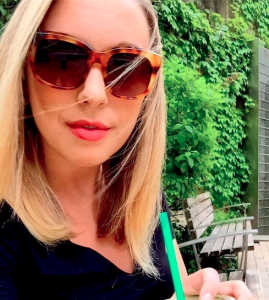 Strong is currently a staff writer at BostInno, where she's been covering local tech and startup news since November 2014. Previously, she was a writer and video blog producer for the content marketing agency, Brafton. Since graduating from Emerson College in 2010, she has contributed to a variety of local and national publications, including The Huffington Post, U.S. News University Directory and Elite Daily.
Please tell us a little bit about your beat at BostInno.
I'm in charge of covering anything relating to tech and start ups in and around Boston. That could mean anything from a funding announcement, merger, or acquisition to a profile on an entrepreneur, a first look at an upcoming local app or information about a brand new accelerator, incubator or coworking space. And sometimes I'll dive into the aspects of startup culture—from style to office beer taps.
With Boston being populated with so many tech startups, how do you personally keep up with all the latest developments and introductions to the market?
It's next to impossible to stay on top of everything and I'm fortunate in that people are constantly reaching out to me about their newly established startups or other announcements. But personally, I'm always scouring AngelList for interesting early stage companies, keeping an eye on industry folks on Twitter, and continually checking college/university news (MIT, Northeastern, etc). Going to networking events, panels, etc. is also a great way to get a scoop on a startup I might not otherwise have known about.
What do you love about your role at BostInno?
Knowing that I'm shaping the way people understand and view emerging companies so early on in their development. It's extremely rewarding, too, to see the impact that positive press can have on startups. I've gotten emails from founders saying that after my article was published about their company, they were contacted by an interested investor. Or, from accelerators saying that a local expert offered to be a mentor for their program after they read my piece. There's so much going on in Boston tech that it's easy to get lost in the shuffle. But I like to think that my shining a spotlight on some of these startups that are still getting their footing, and building up some hype around them, can actually make a difference—even a small one—in their being able to generate traction.
What types of companies do you like to cover and why?
It sounds obvious, but my favorites are the ones solving a problem that, to my knowledge, hasn't yet been addressed. The startup world is saturated, and there are so many people making very similar apps based on basically the same idea. When I come across a company that's going after an unresolved issue, or innovating in a space that still operates in an archaic way, that's what excites me. Because in my mind, they're the startups that have the most potential to turn heads, and to be responsible for significant change.
What has been your most interesting interview thus far?
That's a tie. Arianna Huffington, and T.J. Miller from the HBO series "Silicon Valley." Very, very different interviews but both fascinating individuals.
Do PR people help or hinder your storytelling?
I wouldn't say PR people have ever hindered my storytelling. But not all are as helpful as they could be. The ones I really appreciate are those who get BostInno, who make a point to get me information as quickly as possible—often in advance of any embargo time—and who offer to connect me with the people who matter in any particular story.
If you had to guess, what percent of stories come from ideas a PR person sent to you?
I'd say about 17-18 percent. There are many cases in which a PR person will pitch me something, and I may not take that exact idea, but I'll pull some other tidbit that I find interesting about the CEO, or the company, and run with that. And in those cases, that PR person still played a crucial role in making the story happen because they originally facilitated it.
What's one thing you think PR executives could do better?
Know the journalists they're pitching to. And no, I don't just mean know that they write on tech, or sports, or food. I get so many irrelevant pitches – if the PR person emailing me had actually taken a glimpse at my coverage, they would know the angles aren't relevant either to my beat or to BostInno as a whole. It's equally important to know the publication's audience when you're pitching a journalist. BostInno has an edgy tone. Our readers are largely 20-somethings and 30-somethings. So if you're trying to get me psyched about a tech company based on a super dry concept that's difficult to comprehend, that's going to be tough. And if you're still sure it's something worth covering, then make sure you do it in a way that very clearly helps me understand why it would pique our readers' interest.
What do you love about the city of Boston?
The sense of community here. We band together like a small town would, yet we have all the awesome resources and businesses and other perks of living in a major city. The camaraderie here is particularly advantageous for startups. There's this overall feeling that everyone supports everyone else. I don't think you get a lot of that in other cities, where it's more of an "every man for himself" mentality. It's not just in the tech and startup world, either. The restaurant industry here holds so many events and meetups—everyone knows everyone else and you get the feeling that everyone gets genuinely excited for one another's successes.
What are you passionate about outside of your journalism career?
Singing. Fitness. And, if I'm being honest, eating.
What is one goal you'd like to accomplish before the end of 2015?
In relation to my job, I've been asked several times to be on the judging panel at a startup pitch event and it hasn't worked out with my schedule, so that's something I'd like to do.
Outside of my job, my new goal is to get a basil plant, grow it, and make a mean batch of homemade pesto.