By now you've heard the news that Facebook has announced Graph Search, eloquently explained here by Steven Levy at Wired. While the tech world buzzes about Google's reaction, the everyday user of Facebook is trying to make sense of it all – and probably worried that marketers are going to stalk them even more now – and privacy activists are sure to help them shake in their boots.
But let's slow down for a minute. Isn't garnering information from your friends and fans a good thing? Don't you want to better understand your network, and be able to both gain and share information in a more targeted way? For example, I don't want to bombard all of my "friends" with my current diet habits as I'm doing a 21-day Paleo challenge. But I would love to know which friends have also done it in the past, what their experience was, and any advice they have to share. Sure, I can post that question on my timeline, but it's momentary – maybe some friends will see it, but many will not as it gets buried within the rest of their scrolling "news." I also don't want to ask the question and tag people because it's just obnoxious how the question is then plastered on their Wall (or in their notifications, pending approval), and I'm not totally sure which of my 1300 or so friends it would be appropriate to ask. It's just not a very gracious way to ask your network questions. In fact, here's what it looks like right now in Facebook: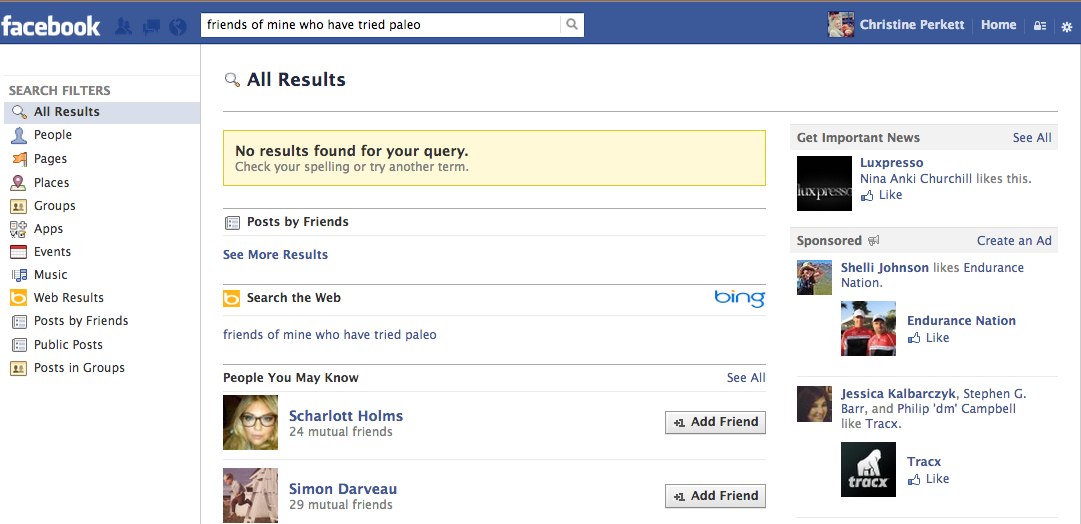 But from what I understand, with Graph Search, I can easily do just what the name implied – search my network (social graph)  and find those in it who might be interested in this particular topic, based on their updates, information and posts. I could query "friends of mine who have tried Paleo," and Facebook would immediately provide me with data that I could then use to ask an appropriate question – or share information – to friends who might actually care. That means I annoy less and connect better on topical information. Or, perhaps you're interviewing for a new job and you want to know if any of your friends have worked at the company you're considering. Not many of us know the career history of all of our "friends," and we're not about to go searching through everyone's bio – on Facebook or on Linkedin, for that matter. If Facebook could deliver an instantaneous list of "friends who have worked at EMC," for example, you could easily ask them what it was like, if they recommend it, etc. (Granted, Linkedin allows you to search by people/companies.)
But what about privacy?
This is, understandably, always the first question that comes to mind when Facebook makes a new announcement. We've been conditioned not to trust them, and often we have reason. But again, from what I understand, Graph Search simply allows you to make better use of information already available to you. They're not unveiling information you're not already sharing – they're just indexing it in a way that allows your friends and fans to easily search it at any time.
Personally I've been wanting Facebook to make it easier to search details on my network. Yes, I have lists and privacy settings, and as long as Facebook is honoring those, I'm happy to be able to go back into someone's "archives" in a more organized and instant way to find relevancy to what I want to ask or share. Nothing's changed from the old adage, "If you wouldn't put it on a billboard, don't put it on a social network." (No matter what the privacy settings. )
And anyway – didn't we all already know that the Internet is forever?
Here are a few of the more choice quotes from Levy's article – they may help you quick study the news:
Nobody has feared this day more than Google, which suddenly faces a competitor able to index tons of data that Google's own search engine can't access.
Facebook is helping them [users] tap its vast, monolithic database to make better use of their "social graph," the term Zuckerberg uses to describe the network of one's relationships with friends, acquaintances, favorite celebrities, and preferred brands.
"People use search engines to answer questions," Zuckerberg says. "But we can answer a set of questions that no one else can really answer. All those other services are indexing primarily public information, and stuff in Facebook isn't out there in the world — it's stuff that people share. There's no real way to cut through the contents of what people are sharing, to fulfill big human needs about discovery, to find people you wouldn't otherwise be connected with. And we thought we should do something about that. We're the only service in the world that can do that."
Thanks to Graph Search, people will almost certainly use Facebook in entirely new ways: to seek out dates, recruit for job openings, find buddies to go out with on short notice, and look for new restaurants and other businesses. Most strikingly, it expands Facebook's core mission — not just obsessively connecting users with people they already know, but becoming a vehicle of discovery.
Graph Search will be improved based on how people actually use it. So Facebook plans a slow introduction, limiting the initial rollout to a small number of users. Zuckerberg's expectation is that by the time it becomes available to millions it will be considerably improved.
And, as GigaOm tells us, "It makes finding new things much easier, but you can only see what you could already view elsewhere on Facebook."
As a marketer, I can't help but be excited about this news – discovering, sharing and positioning information is what we do for a living. But I'm also interested from a personal standpoint because I think it will make me a better Facebook "friend" in many ways. What do you think? Are you excited or nervous about this rollout?
ADDENDUM 
I just learned from Robert Scoble that you can sign up to try it: "To get the Graph Search on Facebook you have to sign up at http://facebook.com/graphsearch and it will roll out over next few months."
I did, and here's a look at the sample search it ran for me – looks good, although I'd love to be able to query something more specific.