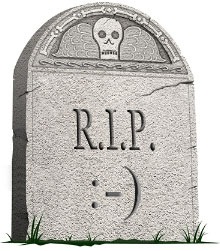 SEO RIP?
Peter Himler recaps the opinion that traditional Search Engine Optimization is dying – as proclaimed by Gary Vaynerchuk during his speaking session at last week's Internet Week in NYC. The post also provides opposing points of view from Jeff Jarvis and Lee Odden.

You Have To Have Thin Skin
It's common to hear that putting yourself (or your brand) out there in the social media space requires a thick skin. Comments and opinions won't always be in-line with your beliefs or mission, and your response to those needs to be timely, yet thoughtful. This post from Mitch Joel explores the idea of wearing a "thin skin" instead. I like his angle.
Five Ways to Keep Current in Public Relations News & Trends
This post from Barbara B. Nixon on her Public Relations Matters blog provides PR students and practitioners with five simple ways to stay ahead of the curve when it comes to keeping up with the fast pace of the PR world.
Intuit Fails Big Time to Communicate During Service Outage
B2B Marcom Writer, Diana Huff recaps Intuit's bad decision to stay silent during their recent service outage this week, only to post an apology and an explanation for the downtime on their site after systems came back up about 24 hours later.
Robert Scoble on Being a Spokesperson and a Reporter
Andy Plesser from Beet.TV shares this candid interview with Robert Scoble that explores the "issues facing companies who are seeking to use Web video to enhance their image." Stay tuned for PerkettPR's own multi-part video interview with Robert hitting our blog next week.
Image Credit: Heather Hoesly