This is Part 2 of my series of takeaways from the 2008 New Marketing Summit at Gillette Stadium. Part 1 focused on the importance of listening. Today I'll share some of the ideas mentioned around becoming a content creator.
Content Creation – Be the publisher!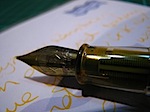 During a panel moderated by Paul Gillin, William Cava (Ektron), Darren Guarnaccia (Sitecore), John Munsel (Bizzuka) and Peter Nieforth (Documetrics) defined content marketing as "using content to drive behavior and action." In today's environment, ultimately everyone has the opportunity to be a marketer.
Another point they discussed was unlocking your content. Take down those web forms because you are losing 95% of your potential readership. Try looking for different ways to engage with the reader and give THEM the option to give out their information in return – you will see a greater success rate with this open mentality.
Cava stressed that organizations should not underestimate the power of fresh content, and it should be treated like a living, breathing thing. Avoid "Content Rot" explained Gillin. A steady schedule of new content will keep your site fresh and will help drive SEO.
Some suggestions discussed during the panel for getting more mileage out of existing content include:
Post a video. Tape simple events your company might be involved with. The company BBQ, a re-enactment of the scene from "Office Space" that involves the office printer and a bat. This type of content creation is easy to develop, free, and it works to drive visitors.
Viral videos. Ok, everyone knows you can't "make" a video go viral – you can just post it, promote it and hope for the best, but again, it is another avenue for attracting eyeballs and getting people to interact with your company/brand.
Press release – yes, they said press releases. As more people are doing away with the press release, there is not as much noise.
During Gillin's own keynote presentation "Why Content is the New Currency of Marketing" he stressed that while marketers no longer have control over what customers are saying about them, they can and should participate in the conversations. Using the same tools as customers, marketers no longer need the media to help influence public opinion, they can do it themselves!
Stay tuned for the third and final part of this wrap-up series coming up tomorrow.