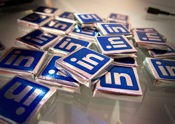 Getting the Most Out of LinkedIn for B2B (and Beyond!)
MarketingProfs Managing Editor Matthew Grant recaps some great LinkedIn tips for B2B organizations that were part of a "MarketingProfs How2" segment that was originally part of a This Week in Digital Media episode featured on the PJA Radio website. A link to the audio segment is also availble in the post.
How We Approached Social Media As A Brand New Business
Ex chartered accountant turned small business entreprenuer, Tahzeen Basunia shares his story of getting started with social media while starting a brand new business selling natural, vegetarian sweet boxes at the same time.
13 Hot Facebook Marketing Tips From the Top Pros
The crew over at SocialMediaExaminer.com continue to pump out incredibly useful content like this tip packed post from Cindy King on Facebook Marketing.
How Your Business Should Be Preparing for Google+
David Polykoff provides some food for thought as to why business need to start preparing for the launch of Google+ Business pages and the SEO potential they'll bring to your brand.
Twitter, Facebook And LinkedIn: Social Media And American Identity [INFOGRAPHIC]
Shea Bennett from Mediabistro's AllTwitter blog shares this stats packed infographic from Hasai that goes into great detail about how Americans use social networking sites. Is it just me or do these stats not paint a very positive picture of the average American?
Photo courtesy of Nan Palmero