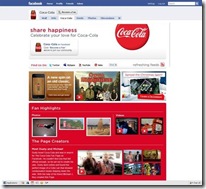 Coke drops campaign sites in favor of social media
Will Cooper from NewMediaAge explains Coca-Cola's shift away from creating campaign-based micro-sites to utilizing social media platforms like Facebook and YouTube, in an effort to place their brand where people are – rather than trying to drive people back to their own sites.
Social Media Success Means Learning to Let Go
Sean Donahue from MarketingSherpa reminds traditional marketers that when engaging in the social media space, "You have to be comfortable with the idea that you're no longer in control of the conversation."
The Killer Pitch? – When PR Agencies Can Do This – Look Out . . .
This post from SiliconValleyWatcher's Tom Foremski suggests one way PR agencies might be able to craft the perfect pitch – and mentions our Founder, Christine Perkett. What do you think?
Helping Social Media Mature in 2010
HighTalk blogger George F. Snell III provides three reasons why businesses still aren't engaging on the social web, along with three ways to change their ways of thinking.
IT must integrate social media tools into business architecture
ComputerWorldUK's Anh Nguyen advises enterprise organizations to work more closely with IT Management in order to enter the social media space more smoothly.