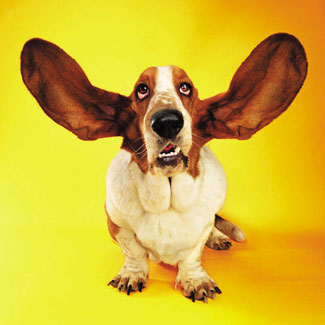 At the risk of stereotyping myself, and my peers, it seems to me that most PR personalities are talkers, spinners and strategists, but rarely are they quiet listeners or observers. This observation is based on my own experience in PR over the last decade or so. I also speak from that rare position of listener.
Yep, I'm a listener. One of the 'quiet ones,' I buck the PR stereotype. I'm an introvert; shy to the point of pain in my youth; and though I have gotten over the pain part, I can still think of 100 things I would rather do than interject myself into a conversation with someone I just met.
Not surprisingly, this has caused some angst for me from a professional standpoint. In the client service business, we must prove ourselves every day – to our clients, colleagues and managers. In PR, this often takes the form of strategic counsel and creative ideas shared verbally in a meeting or via a conference call.
Fortunately, I've had some excellent guidance and support here at PerkettPR and have overcome most of my fears about voicing my ideas. Despite these strides, I still believe wholeheartedly that my ability to listen has benefited my teams, my clients, and me in countless ways – perhaps in more important ways than my verbal observations ever will.
Good customer service begins with listening
I've heard time and again, "if they don't hear from you, they don't know you're engaged." I'd argue that good client service is as much about listening as it is about presenting, counseling and verbalizing ideas. Listening is another form of engagement.
I'm surely not the only one who's come across a verbose PR pro who doesn't know when to be quiet. You know, the one that cuts you off, interrupts the client, pretends to listen, but then continues talking up his or her idea. Sure, they can talk about their ideas and offer advice on the fly, but it's the listeners who actually hear and understand what the client really wants. Everyone wants to be heard, especially if they're paying someone to listen.
We cannot provide excellent counsel without first listening and understanding what our clients have to say. Listening goes far beyond remaining silent while someone else speaks. Listening is about paying attention to the nuances of the conversation, recognizing what isn't being said, and then applying what you've heard to the matter at hand.
Social Media – talking or listening?
As our business – and the world around us – evolves, listening is becoming more important than ever. With Facebook, Twitter, LinkedIn, Foursquare, Whrrl and countless other social networks encouraging brief status updates, we're overrun with one-way conversations. It seems everyone has something to say, but is anybody listening?
Christine Perkett has spoken about the importance of listening as part of the social conversation for some time. In a 2009 blog post, she commented, "One of the most effective ways to connect with any audience is to show them that you care. One of the easiest ways to show someone that you care is to listen." This still holds true today, with even more noise entering the market daily.
More recently Gartner's Michael Maoz shared his thoughts on the lost art of listening. He notes that many of his clients who are introducing social capabilities to their businesses are reaping big points from their customers by simply demonstrating their willingness to listen. Brands that are most successful with social media are those that understand it is a two-way dialogue, and an opportunity to listen to their customers – just on a broader scale.
Listen up
Granted, in the day-to-day life of your average PR professional, social listening is only part of the job. Our clients look to us for ideas, strategy and counsel delivered verbally or otherwise. And we'll provide it (even those of us that are more natural listeners, than talkers ;-)) but, first, we'll ensure we've taken the time to listen to their needs and concerns carefully, and offer thoughtful advice that helps them to reach their business goals – not just a knee jerk reaction or response.
What are your thoughts on the art of listening? Are we in danger of losing this crucial skill? How do you ensure you're really listening to your customers? We'd love to HEAR from you in the comments.