Based on our expanded services over the last few years and the plethora of social media posts on this blog, we're obviously huge fans of online networking. But when I attended the MarketingProfs B2B Forum TweetUp Monday evening, I was reminded how important face time is with those we connect with online.

I had the pleasure of seeing older friends/industry colleagues like Chris Brogan, Jim Storer, Jim Spencer, Patrick Rafter and Ann Handley, and I was fortunate enough to meet those who were – until now – online acquaintances such as Steve Woodruff, Diane Hessan, Mike Volpe and many others. I also received a lot of flack from Joselin Mane about the fact that I don't go to enough TweetUps. And you know what, despite my push back about lack of time for family commitments, work and personal friends – let alone TweetUps – he has a point. There's nothing quite like face-to-face networking. It provides the opportunity to create stronger bonds with others and discover chemistry that might not come through as quickly in online conversations. (It also keeps you "real" – here's a funny post about how online and offline behaviors differ.)
Although I recognize the value in such events and enjoy most of them, I really don't get to as many as I probably should. But you know what, I don't see many other PR agency leaders at them either. So I started to wonder, is it a generational gap? Is online networking enough? Are those that don't do both missing huge opportunities?
After a few of us listened to Brogan run through his event schedule – and wondered just how he does it – we talked about how not everyone is created equal. What I mean by that is that not everyone has the same personal or work situation – and so reasons for attending or not attending vary greatly.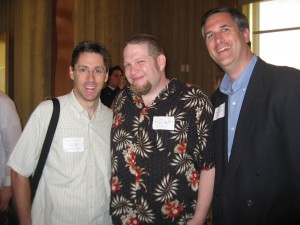 Younger workers seem much more likely to attend events on a regular basis – they often live in closer proximity to the city (here in Boston, anyway) and they usually have interest in meeting people for personal reasons as well (friendship or dating, for example). Older workers may live in the suburbs with a healthy commute both ways, and thus attend less often – and become more choosy about what they attend and why they attend. With many who have spouses or families waiting at home, the options for attending the overflow of events may be even slimmer.
Don't forget that a lot of people who are active in online communities – such as Twitter and Facebook – physically live in rural areas and barely get to any face-to-face events at all. Are they at a disadvantage?
What's your opinion?
Is there a generational gap in networking?
Is it a sign of career dedication (or lack thereof)?
Do you gain business value from every event?
Does it hurt to attend less events or is online networking just as valuable?