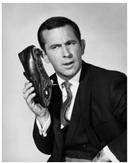 Top 13 Guidelines for Commenting on Blog Posts
Commenting on blogs that are part of your vertical market can be a powerful way to share knowledge with community and build your reputation as an expert in your field. B.L Ochman shares 13 tips and best practices for commenting on blogs.
Customer Data via Twitter
Adam T. Sutton from the Sherpa blog recently interviewed Craig Greenfield, VP, Search and Performance Media, Performics, where they discussed how his team uses Twitter. The result was six takeaways that show how Twitter contributes to the Performics team's success.
Privacy is dead, and social media holds smoking gun
Mashable's Pete Cashmore guest posts on the CNN Opinion blog with this piece on how social media is changing the face of privacy.
Your Company May Own Your Tweets, Pokes, and YouTube Videos
Jermiah Owyang discusses content ownership between employees and companies and includes an attorney's perspective on the topic.
The new rules of business-to-business marketing & PR
David Meerman Scott's keynote from the Business Marketing Association's annual conference has been made available online for the first time. Pop some corn and settle in for 45 minutes of great B2B marketing information.