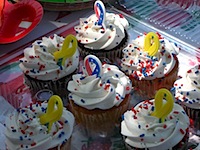 Marketing Jobs of the Future
Valeria Maltoni dives into the rapidly changing role of today's marketer and gives some good incite into where the space is going and the challenges of hiring for marketing positions. She also includes a nice link to my post on SocialMediaToday.com featuring a video of Aaron Strout, VP of New Media for Mzinga (client) speaking about hiring and getting hired in a Web 2.0 world.
10 Green Social Networks You Should Know
With all sorts of people and businesses jumping on the "Go Green" bandwagon, it was only a matter of time until "Green" oriented social networks started popping up. This post lists 10 such sites that will let you connect with fellow environmentally-minded individuals.
5 Quick Tips on Pitching Angel Investors and Venture Capitalists
PerkettPR's attendance at multiple TechCrunch, TechCockTail and PopSignal events definitely brought to light that there's certainly no shortage of start-up companies looking for money. This post from Ben Yokosvitz's Insigator Blog gives some good advice on successful pitching during your fund raising efforts.
Robert Scoble Joins Up with Revision3
There aren't many details available about Robert Scoble's newly announced show (called WorkFast.TV) on Revision3, so we'll just have to wait and see what comes out in the upcoming weeks. However, this post includes an interesting speech from Scoble about his use of Twitter during the recent Chinese Earthquake.
Celebrity tipping point on Seesmic
Video conversation platform Seesmic created a big buzz earlier this week when several celebrities appeared in interviews on the service. Famous names included Harrison Ford, George Lucas, and Steven Spielberg to name a few.
Thanks for checking out this week's Persuasive Picks and for those in the United States – have a great Memorial Day weekend!