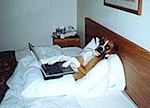 Why You Should Stop Sleeping With Your Laptop
B.L. Ochman lends some sound advice to the current generation of web-workers in this entertaining post that serves as a wake up call to unplug and get a life!
Are you a social media addict?
Following along with a similar topic to my first pick, Scott Kleinberg from the ChicagoNow's Redeye blog shares five fun signs that you might be a social media addict.
A Framework for Branding Through Social Media
Jordan Julien suggests five methods of communicating with your online communities to better map out your social media strategies.
7 Reasons Social Media Is A No-Brainer For Passionate B2C Brands
B2C brands that are still hesitant to make the plunge into social media might benefit from Adam Singer's seven reasons to jump in sooner rather than later.
Using Classic PR Techniques To Support Brands In Social Networks
Marty Weintraub shares seven existing PR channels that can be leveraged to help feed information into a social media presence on a regular basis.