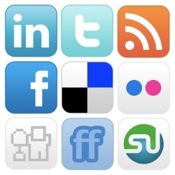 Choosing the best social media buttons for your site
Help keep your website from reaching "button overload" with this post from Memeburn.com's Alistair Fairweather. He provides helpful tips on how to select the proper sharing buttons for your site, where they should be place and how to implement them.
How the Auto Industry Is Embracing Social Media
Not every brand has the budget and resources to execute on a social strategy like the major auto manufacturers do, but we can always dream right?! Check out this post from Mashable's Todd Wasserman that shares a great infographic series depicting many of manufacturer's social campaigns and stats.
How to Overcome 4 Social Media Headaches
TopRankBlog's Lee Odden shares 4 helpful tips for getting through the potentially "painful" side of executing a social campaign from start to finish – especially when it comes to pleasing the top brass.
Mainstream Media Still Drive Majority of Twitter Trends
Nick Bilton from the NY Times Bits blog shares highlights from a recent HP Social Computing Research Group study that found mainstream media sources to be the launch point for most trending topics in the social space.
The 8 Most Greatest Tips to Write Unstoppably Killer Headlines Guide Ever
Writing a catchy and engaging headline that will draw readers in is important regardless of whether you're writing a blog post or a press release. Brush up your skills with some great tips from Eric and Michael Cummings in this guest post on Problogger.net.