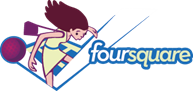 6 marketing opportunities on Foursquare
Many are predicting that 2010 will be the year of mobile marketing. If thats the case, then iPhone and Blackberry app Foursquare is on its way to being a leading platform in that space. Tony Felice from iMediaConnection shares 6 ways marketers can take advantage of this increasingly popular mobile app.
Facebook Marketing Tips: Make the Most of Your Fan Page
Online Marketing Blog Copywriter, Michelle Bowles shares a few great tips on making the most of your Facebook Fan Page and provides examples of real pages that are inline with her advice.
Coca-Cola's Super Bowl Ad Plans Include Social Media
Stuart Elliot from the WSJ's Media Decoder blog provides a run-down of Coca-Cola's Super Bowl campaign that includes a combination of traditional tv ads and online focused social media efforts
50% of Marketers Shifting Funds From Traditional to Online; Social "Top Priority"
Marketing Pilgrim's Andy Beal shares the results from a recent report from the Society of Digital Agencies that indicates marketers are continuing to put more time and effort in the online social space.
Social Media As Customer Service
Lauren Fischer from SimplyZesty explores the trend of businesses adding social media platforms to their customer service workflows. A link to a Forrester presentation is also provided.